The St. Joseph's Council Douro is located in the Douro Parish Hall across the road from St. Joseph's Church in Douro. The Grand Knight for 2019-2020 is Dan F. Moloney.
Held the 3rd Tuesday of every month in the Douro Parish Hall. Members are reminded that Officers meeting @ 7:00 pm followed by general meeting @ 7:30 pm. Attending these meetings is the best way to stay informed of what our Knights are doing and planning. Please note: There are no meetings during summer months of July & August.
Dues for 2020: Our annual membership dues remains at $35.00. There is a $5.00 discount if paid to Don Forrest by Dec. 31, 2019. Please use the enclosed envelope that came with the breakfast schedule and place it in the Sunday collection basket. Our Council works very closely with St. Joseph's Parish, Douro, providing funds and volunteers for various projects. Our members are quite active participants in the parish and community.
 St. Joseph's Council, Douro [11486] has had nine Grand Knights in it's short history.
The first Grand Knight was Rev. Mr. Paul Dunford.
The second Grand Knight was Ted Detmers.
The third Grand Knight was Bernard Leahy.
The fourth Grand Knight was Paul Meade.
The fifth Grand Knight was Paul Yasyszczuk.
The sixth Grand Knight was Robert (Bob) Condon.
The seventh Grand Knight is Michael (Mike) Sullivan.
The Eighth Grant Knight is Joe Sweeney.                                                                                                                                                                                                                        The Ninth and current Grant Knight is Dan F. Moloney.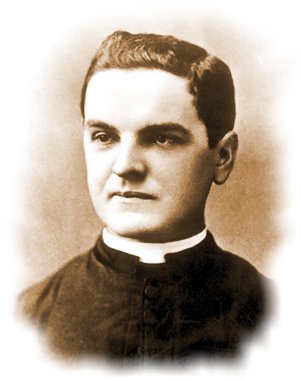 PRAYER FOR FATHER MICHAEL J. McGIVNEY
"O great glorious God, you imbued your holy priest, Father Michael J. McGivney, with deep priestly virtue and especially with pastoral concern for the poor, the orphan, the widow, for the Christian education of youth, for the protection of the faith of the working man of this day. Now that his priestly ministry continues to spread to countless millions throughout the world through the efforts and influence of the Order of the Knights of Columbus, which Father McGivney founded, we beseech you, Heavenly Father, to raise your faithful servant, Michael, to the honors of the altar. We ask this through our Lord Jesus Christ and his Holy Mother Mary and our Mother. Amen."
PRAYER FOR THE CANONIZATION OF FATHER MICHAEL J. McGIVNEY
"God, our Father, protector of the poor and defender of the widow and orphan, you called your priest, Father Michael J. McGivney, to be an apostle of Christian family life and to lead the young to the generous service of their neighbor. Through the example of his life and virtue may we follow your Son, Jesus Christ, more closely, fulfilling his commandment of charity and building up his Body which is the Church. Let the inspiration of your servant prompt us to greater confidence in your love so that we may continue his work of caring for the needy and the outcast. We humbly ask that you glorify your servant Father Michael J. McGivney on earth according to the design of your holy will. Through his intercession, grant the favor I now present (here make your request). Through Christ our Lord. Amen. Our Father, Hail Mary, Glory be… " " VIVAT JESUS"