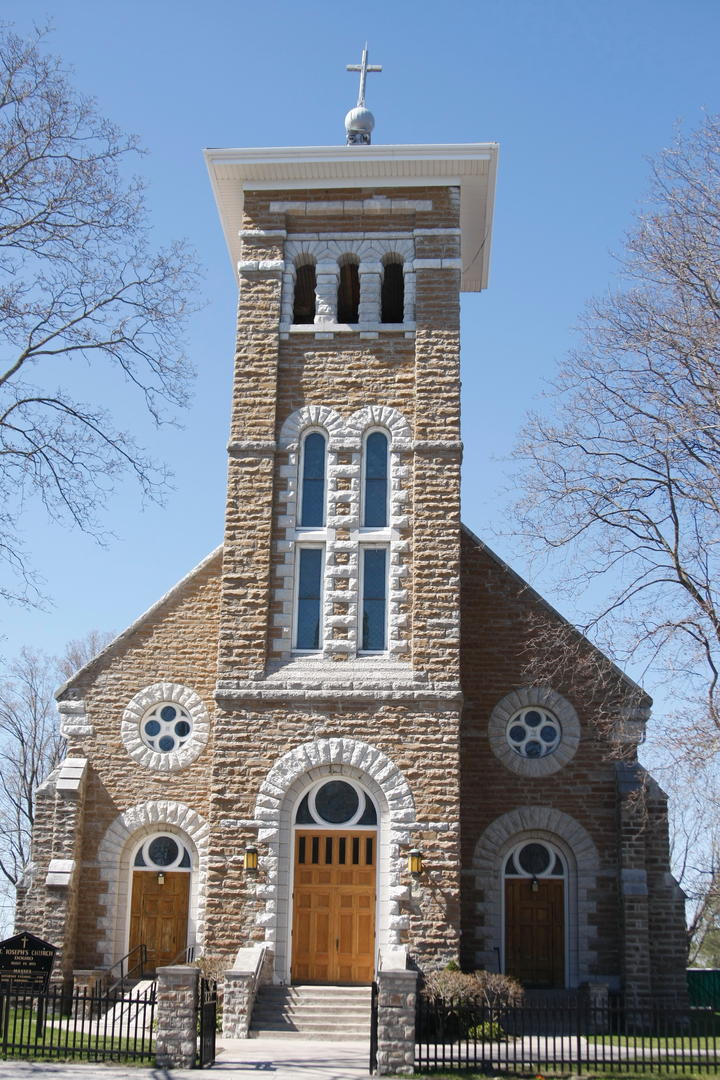 History of St. Joseph's, Douro
(From Edgar Boland's book, From the Pioneers to the Seventies: A History of the Diocese of Peterborough, 1882-1975, Maxwell Review Ltd., Peterborough, Ont. 1976. Used with permission. Indented material and information from 1971 to present, is from other sources.)
In the autumn of 1822, Hon. Thomas A. Steward and Robert Reid from Ireland received respectively grants of twelve hundred and two thousand acres of land on condition of actual settlement and the performance of settlement duties. In the following year the township was surveyed and fourteen and two-sevenths acres of land in every concession was set aside by the Government for the maintenance of the Protestant clergy. Mr. Stewart and Mr. Reid received permission to hold the entire township for a period of five years to settle friends, acquaintances and others, but they surrendered this right cheerfully to Peter Robinson who directed the migration of some two thousand immigrants from Ireland to Peterborough County in 1825. In that year, sixty-five of the newly arrived settlers located in Douro.
The years between 1825 and 1846 are referred to as the foggy period as there is little recorded about the spiritual welfare of the pioneer settlers. However, there is sufficient information to show that the settlers were not without spiritual attention and that their faith was strong. During this period Mass was celebrated in several houses and shanties. It is possible that Father Crowley who had come from Cork, Ireland, and who resided in Peterborough between 1828 and 1833 may have said Mass in Douro. An itinerant priest, Father Vaughan, celebrated Mass in the home of George Clarke, a magistrate and justice of the peace, who lived on the first concession of the township, and in the home of Michael Condon who lived on the second Concession, Lot 10. Other priests whose names are not recorded celebrated Mass in the home of Denis McCarthy who lived on the sixth Concession, Lot 8 and in the hotel of Peter Fitzpatrick, located on the site of a later blacksmith shop. During this period Bishop MacDonell of Kingston, accompanied by Patrick Maguire, one of the first magistrates of Newcastle District, visited the pioneer settlement during the winter months.
The necessity of a church in the community was the incentive for a plan to raise funds. As early as 1843 and for the two succeeding years subscriptions toward this objective were collected by Maurice O'Brien in Peterborough, Cook's Rapids (Hastings), Chisholm's Rapids and Healy Falls.
The secretary responsible for recording monies promised and collected was Bernard Boyd, Jr., and the accounts were denominated in pounds, shillings and pence.In the winter of 1844, lordly pines and fragrant cedars were felled, drawn by oxen and hewn into building timber. Saw logs were drawn to Choate's mill at Warsaw and Carveth's mill on the Indian River. In January 1845, a frame church sixty feet long and thirty-five feet wide with a belfry seven feet by twelve and one-half feet was erected. The contractor was John Mahoney and the priest who supervised the undertaken was Father M. Butler who was pastor of St. Peter's in Peterborough at the time.
     There is no record of the establishment of Douro as a parish. However, the accepted date is 1846 as Father Hugh Fitzpatrick, on July 12, baptized three babies of three different Maloney families on that date. On August 3 of that year the first marriage in the parish register was signed by Father Fitzpatrick
Father Fitzpatrick remained pastor at Douro until 1852 when he died at the age of forty-five. During his pastorate, Bishop Phelan of Kingston visited the parish in 1850 when he blessed the parish cemetery, and again in 1852 when he canonically erected the Stations of the Cross. During illness prior to his death, Father Fitzpatrick was assisted by Father John Farrell of Peterborough who later became the first bishop of Hamilton and Father James Chisholm of Lindsay.
Hugh Fitzpatrick had been born at Newtown-Butler, Fermanagh County, in the Diocese of Clogher, Ireland, February 27, 1801. He came to Canada in June 1832 and was ordained to the priesthood at Glengarry by Bishop Remi Gaulin of the Diocese of Kingston, October 23, 1836. He is thought to have constructed the first church in Newmarket, which drew harsh criticism from Father John Cassidy in December 1839.
(The date of birth indicated here has the appearance of precision but its accuracy is uncertain. The 1851 census states that Fr. Fitzpatrick would be 48 on his next birthday; assuming he was born in February, the year would have been 1804. Edgar Boland, above, says he died in 1852 at age 45, which would have placed his birth in 1807.
His parents were John Fitzpatrick and Rose McDonell, as may be deduced from the Cathedral Marriage Record of his sister Mary who, in July 1852, married Patrick Costello. Mary may have served as a housekeeper for her brother and is listed as residing with him in a log house in Douro at the time of the 1851 census.)
In 1840, Father Fitzpatrick moved to Lindsay by way of Port Perry and he became the first resident pastor of Ops and Emily. He built a church in Lindsay and celebrated the first Mass therein on November 1, 1841. His ministrations included Downeyville, King's Wharf and Bobcaygeon. His health became impaired and he retired to Douro, probably in early 1843, for a few months.
Father Fitzpatrick is also known to have laboured in Oshawa, part of the Diocese of Toronto when it was severed from Kingston in 1841. He received a letter granting him liberty to leave the Diocese of Toronto "in perpetuum" on October 27, 1844, returned to Ireland for a few months and to Douro on May 20, 1846.
Parish records indicate that Bishop Patrick Phelan, an Auxiliary Bishop of Kingston, was present at Douro for the Blessing of St. Joseph's Cemetery on January 23, 1850. Two years later, the same Prelate returned to Douro, February 9, 1852, when the Stations of the Cross were canonically erected and the Sacrament of Confirmation was administered to 64 persons, witnessed by several priests: Revs. James Chisholm of Lindsay, John Burke of Emily and Ennismore, John Farrell and Hugh Fitzpatrick.
The last Baptism recorded by Father Hugh Fitzpatrick was dated March 29, 1852, making a total of some 300 Baptisms at Douro in less than six years. He died on June 20, 1852 and was buried in St. Joseph's Cemetery, just across the street from the church.
The second pastor of Douro was Father Michael Mackey. There is no record of the date of his appointment but the parish register bears his signature for a baptism on August 8, and a marriage on August 30 of 1852. The last baptism recorded above his signature is September 30, 1858.
Fr. Mackey was brought from Peterborough to Douro in August of 1852 on a wagon driven by Morgan O'Brien, for there were no carriages in Douro at that time. He received the above named Bishop Phelan, Administrator of the diocese of Kingston, on 27 May 1856 for the conferral of Confirmation on 129 candidates.
Father Mackey was succeeded by Father William Patrick McDonagh for a period of two years. Father McDonagh had been sent to Canada by Archbishop Oliver Kelly of Tuam, Ireland, to solicit funds towards the erection of a new cathedral in Tuam. For several years he had been an active missionary in a large area east and north of Toronto. He was pastor of St. Paul's Church in Toronto when the Diocese of Toronto was erected in 1841. In the following year, Bishop Michael Power appointed him Pastor of St. Catharines where he built the nucleus of the present cathedral and a church at Thorold. In 1851, he transferred to the Archdiocese of Kingston and for a time served in the parish of Kitley now known as Toledo. Father McDonagh evidently retired in 1860 and died three years later. He was buried near the first pastor of Douro, Father Hugh Fitzpatrick.
On the grave marker, his name is spelled "McDonough", but this appears to be in error. Two samples of his signature can be found in the baptismal register for 1859 and these (presumably from his own hand) seem to be "Wm. Pat. McDonagh".

The fourth Pastor of Douro was Father Michael Lynch whose first signature appears in the Baptismal Register below the record of a baptism performed on December 6, 1860. In 1863 the parish house for which there is no record of erection was destroyed by fire, and Father Lynch took up residence four miles north-east of the church at the home of a Mr. Tobin.

That log house appears to have been constructed about the same time the 1¾ acres of land, upon which it sat, was conveyed in April 1843 to the Church from a parcel of 100 patented to Morgan O'Brien nine years earlier.

During 1863 and 1864, the present parish house of stone was erected with a Mr. Hayes as the contractor. In 1865 Father Lynch was transferred and it is presumed that he served in Cornwall, then a part of the Diocese of Kingston to which Douro belonged at the time. In 1871 he became Pastor of St. Peter's in Peterborough and in 1883 was appointed to Lindsay by Bishop Jamot, the first Bishop of the Diocese of Peterborough. On resigning from Lindsay in 1884, he lived in retirement for a time and celebrated Mass in Keene during Bishop Dowling's term of office. When Very Rev. Joseph Browne of Port Hope resigned in 1890, Bishop R.A. O'Connor named Father Lynch to succeed Father Browne, and he served in Port Hope until his second retirement to Peterborough in 1907.

Father Lynch's tombstone in St. Peter's Cemetery in Peterborough, indicates that he was born in County Cavan, Ireland, in 1827, Ordained a Priest in Ottawa in 1854 and died in Peterborough, 3 July 1909. He was the second of three Pastors of Douro to die that same year, the others being Fr. O'Connell, 16 January, and Fr. Keilty, 22 December.

In December 1865 Father Lynch was succeeded in Douro by Father Daniel O'Connell whose pastorate was one year short of a quarter century and continued through the Episcopates of Bishops Horan and John O'Brien of Kingston and Bishop Jamot of Peterborough. In addition to Douro, Father O'Connell served missions in Burleigh, Stoney Lake and Chandos which were flourishing lumber operations. The number of Confirmation during his tenure of office reached nearly twelve hundred. Because of the increasing congregation, Father O'Connell build transepts, and a vestry to the original church, thus making it cruciform in shape. Although the church was Gothic in style, the ceiling was flat. Father O'Connell's record in building included the nucleus of the present church in Young's Point, a frame church at Chandos, a barn, a stable, and a shed one hundred and forty-five feet long for the storage of wood. On February 8, 1889, he was transferred to Ennismore. He died in 1909 the year of the death of his predecessor, Father Michael Lynch and his successor, Father William J. Keilty.

Father Keilty who was born at Prescott, Ontario, became Douro's sixth Pastor. He was an assistant at the Cathedral in Kingston for five years after ordination. In 1873 he became pastor of Kitley, now known as Toledo, in Leeds County. Six years later he was appointed to Ennismore. Shortly after his appointment to Douro in 1889, Very Rev. Joseph Browne of Port Hope resigned and was assigned to residence at Douro in order to attend the Missions of Lakefield, Young's Point and later Keene. During his pastorate of twenty years, Father Keilty was assisted by Fathers Charles Phelan, Joseph O'Sullivan, C.E. Trudel, Thos. F. Scanlan, Patrick J. Kelly and M.E. Crowley.

Also assisting at the parish for very brief intervals were Fathers L.N. Preville, Naz. Dupois and David Joseph Scollard who, in 1904, was appointed first Bishop of Sault Ste. Marie.

Father Keilty's monumental achievement was the building of the present beautiful church. The gray and red limestone was drawn nine miles from a quarry in Dummer Township, just north of Warsaw, and the white limestone trimming was brought from north of Orillia by rail to Nassau and then drawn to the site of the church. J.E. Belcher was engaged as architect and construction was entrusted to John Hayes and R. McGregor. On May 24, 1892, Bishop R.A. O'Connor blessed and laid the corner-stone of the new St. Joseph's Church. One year later, on June 11, 1893 Bishop O'Connor blessed the church, completed at a cost of $16,000. The celebrant of the Mass of dedication was Very Rev. C.H. Gauthier, Vicar General of the Archdiocese of Kingston and the sermon was preached by Monsignor McEvay, rector of St. Mary's Cathedral in Hamilton. The debt on the new church was liquidated by 1901, through the proceeds of a cattle fair and a number of picnics. The original church which occupied the site of the present church was moved to a site opposite the new church and served as a parish hall until 1929 when it was torn down. In 1897 Father Keilty acquired two additional acres for cemetery purposes and this was surveyed into lots and blessed in the same year. During his pastorate a second storey of brick was added to the kitchen part of the parish house. Father Keilty died in December of 1909 and was buried in his native town of Prescott.

On January 10, 1910, Father Michael J. McGuire who had been pastor of Wooler and Brighton for twelve years was named to succeed Father Keilty. Shortly after Father McGuire's appointment to Douro, Father Victor McFadden was appointed his assistant and was assigned the care of the Missions of Keene and Chandos. During Father McGuire's pastorate five native sons celebrated their first Masses in St. Joseph's Church: Father Joseph Leahy of the Society of Jesus on August 6, 1916, Father John Garvey on May 19, 1918, Father Joseph Collins on June 13, 1920, Father Joseph Walsh on May 27, 1934, and Father James Collins on June 16, 1935.

Father McGuire directed considerable attention to maintenance and beautification of the church buildings. The parish house which had been built in 1864 was improved by the excavation of the basement and the erection of retaining walls, replacement of the original roof with steel and the construction of a new veranda with concrete floor.

This veranda was constructed in 1914 at a total cost of $704.97, including such bills as "14 loads of sand" for $1.40 and "124 loads of gravel" for $17.10. Other improvements were made to the house in the same year, including the above-mentioned steel roof at a cost of $281.20. The renovations to the house that year totalled "1,110.77.

The church which had been completed in 1893 was in need of interior decoration and this was made possible through a generous bequest from the will of Very Rev. Joseph Browne who died in 1911.

Commenting in his Will that he liked the people of Douro very much, Msgr. Browne bequeathed the sum of one thousand dollars to the parish.

The beauty of the interior was enhanced by paintings on the ceiling and the walls of the sanctuary and this was followed by covering the vaulted ceiling of the naïve with canvas and the application of eighteen paintings. All of this beautification program was executed by Mr. Peter Charles Browne. Memorial windows to Very Rev. Joseph Browne and Rev. Daniel O'Connell were installed to complete the series to the memory of deceased pastors.
(If one assumes that the windows were installed in order from front to back on the east side followed, from front to back, on the west, then Mr. Boland's account would seem to make sense; however it may be noted that the N.T. Lyon company "signed" the McDonagh (Nativity of the Lord) and Browne (Death of St. Joseph) windows in the same way, and distinctively compared to all other windows in the church, suggesting that they may have been built at the same time. Similarly, the windows depicting the Resurrection of the Lord and the Ascension of the Lord on the west side of the church, dedicated to the memory of John Leahy and his wife Mary Tobin by daughter Julia and in memory of James Leahy by his sister Julia, respectively, have a unique colour pallet while lacking a panel found in all other windows identifying the scene, suggesting that they may be been created together but at a different time from the others. Also, it is very curious to note that the windows on the east side of the church depict the Joyful Mysteries of the Rosary, progressing from front to back, while those on the west side depict the Glorious Mysteries, progressing from back to front, but the Coronation of the Blessed Virgin is absent; in its place is found the Death of St. Joseph. The final two large windows under the balcony, one on either side, were obviously added later and will be mentioned below.)

On the arch above the Sanctuary there was painted a scroll held aloft by two angels. The wording was chosen by Fr. McGuire: "I HAVE LOVED O LORD THE BEAUTY OF THY HOUSE AND THE PLACE WHERE THY GLORY DWELLETH". This same inscription is carved on the side of Fr. McGuire's tombstone in St. Joseph's Cemetery, and the ribbon in the arch of the church has since been repainted to read: "PANIS QVEM FRAGIMVS NONNE COMMVNICATIO CORPORIS DOMINI EST" (is not the bread we break a communion in the body of the Lord – 1 Corinthians 10:16).

Over the sacristy door had been placed a painting of the Flight into Egypt. This has since been replaced by an image of the Agony in the Garden.

Mr. Browne's company was contracted to place canvas in the hood above each of the windows and to paint the canvas with a simple border decoration. This brightened the church considerably and drew attention to the dark and uninspiring main vault of the ceiling. The pastor made an appeal to the congregation, each panel was taken and canvases painted by the P.C. Browne Company in 1912 were installed. The twelve panels directly above the main aisle were each given an emblem. Other spaces were given representations of important persons and events.

The first large painting (actually two panels with a spacer between them) on the east side of the nave roof shows St. Patrick expelling the serpents from Ireland. In the two panels above this were depicted St. Lawrence O'Toole and St. Augustine.

The next large image is of St. Ignatius of Loyola discussing the rules of his Society with his companions. Above were two members of the Society, St. Francis Xavier and St. Aloysius.

Next is shown St. Francis of Assisi and his concern for all God's creatures. Above were paintings of St. Bonaventure and St. Francis of Solanus, who laboured long in South America.

The following panel depicts St. Dominic in his struggle against the Albigensian heresy at Fanjeaux. In the spaces above were paintings of St. Catherine of Siena and St. Rose of Lima.

Next is a scene from the Crusades. The Emperor Conrad kneels on the steps of the Cathedral and receives the Cross blessed by St. Bernard of Clairvaux. Above were images of two Cistercian Saints: Robert, Abbot of Molesme and Bernard of Clarivaux.

Above the balcony on the east side there seems to have been a further large panel showing St. Benedict receiving the children of Roman noblemen that he might educate them, and above this two other paintings of Benedictine Saints.

On the west side of the church, above the balcony, was a painting of St. Bruno walking near a forest and Roger, Count of Sicily, dismounting to meet the Saint. In the spaces above were painted St. Cecilia, patroness of Church music, and St Agnes, bearing in her arms a little lamb and the palm of victory.

There follows a painting of St. Alphonsus Ligouri, preaching from a balcony.

A depiction of the early Christians in the Coliseum of Rome is seen next. They are shown in postures of prayer, standing and kneeling, as they await the lions.

The Biblical scene of Our Lord's Triumphal Entry into Jerusalem is copy from the German artiest Bernhard Plockhorst.

Following is another scene from the New Testament: Christ stilling the waves of the Sea of Galilee which threaten to swamp the boat of His disciples.

The final large panel is a representation of the Saviour, disregarding the protests of His disciples, receiving little children who flock around Him.

Higher up in the arch of the ceiling there had been another row of paintings of various Saints. These canvases, along with those of St. Benedict and St. Bruno above the choir loft, were damaged beyond repair by a leaking roof and have been removed.

The long shed already mentioned was torn down in 1913 and a concrete wall, one hundred and forty-two feet in length, was erected on the site to serve as a windbreak along the western edge of the property.

In the same year, a cistern was built between the rectory and the church at a cost of $202.10. Its dimensions are 28 by 8 by 9 feet high at the top of its vault (8.5 by 2.5 by 2.75 m.) It collects rainwater from the roofs of both the house and the church.

In 1919 the Holy Name Society was established in Douro by Rev. J.V. McAuley, the Diocesan Director. Reflecting on this, Fr. McGuire considered that the Society "had been a great blessing, as it has helped to lessen cursing, swearing and unclean speech in the Parish."

Father McGuire's sister, Elizabeth, who had served as his housekeeper for twenty-eight years died in 1925. Shortly after this Father McGuire's health commenced to deteriorate, and Father Christopher McCarney, newly ordained, was appointed assistant for a few months. During 1927 and 1928, Father James McGuire served as assistant in Douro and was in charge of the parish during the Pastor's absence during the winter months. In July 1929 Father John Leonard was appointed to Douro where he served as assistant for over a year. Restored to better health, Father McGuire carried on without an assistant until 1934 when Father W.P. Meagher was appointed to assist in the parish for the winter months. In 1935 Father Edward Welsh was named assistant and became Administrator of the parish for two years during which time the church was redecorated.
   The Catholic Women's League was established in the parish on September 10th, 1933 with Mrs. James Collins (Anastasia Foley) serving as first President. In October two years later, the CWL served meals at a local Ploughing Match at Joseph O'Connor's farm at a cost of twenty-five cents a plate. The crowd was said to be the largest ever at a Ploughing Match to that point.
     Having earlier installed and dedicated the Pentecost (or "Mission of the Holy Ghost") stained glass window to the memory of his predecessor, Fr. Keilty, at a cost of $250, Fr. McGuire contracted the M.T. Lyon Glass Co. of Toronto in 1936 to insert scrolls commemorating the first five Pastors of Douro into windows on the east side of the church — $240.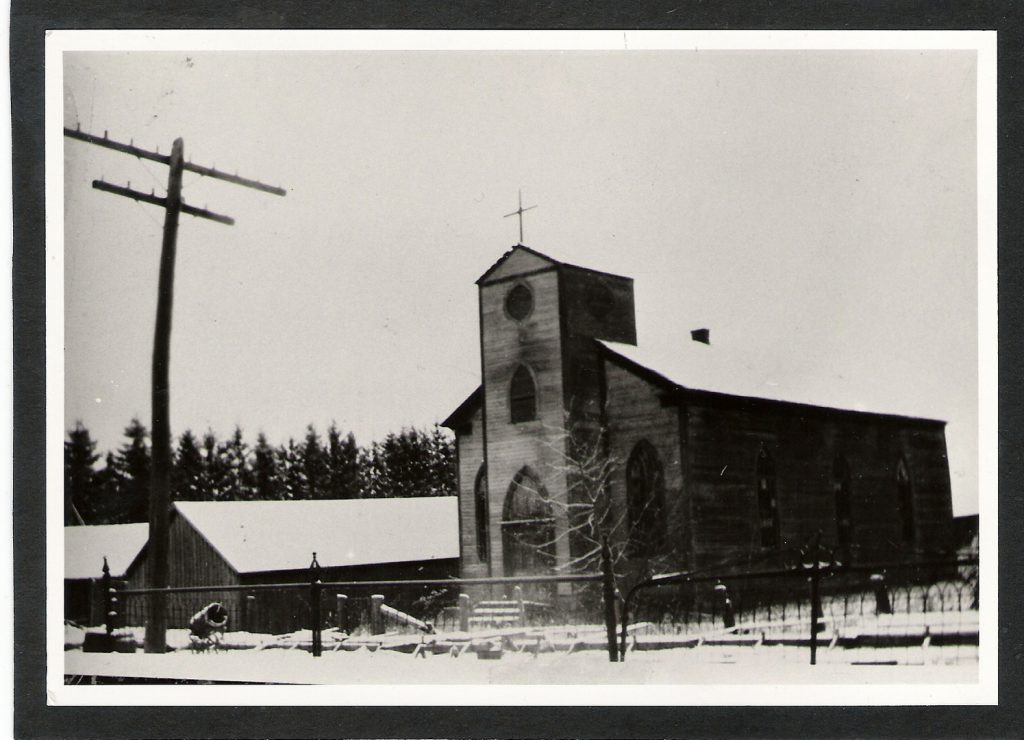 If the information immediately above is accurate, as taken from Fr. McGuire's own account, then the dedication banners in two stained glass windows have since been changed. The scroll commemorating Fr. Keilty is now found in the next window further north, the Assumption of the Blessed Virgin. The left end of this scroll appears to have been broken and re-leaded. The Pentecost window now bears the dedication to the memory of Fr. McGuire himself.

In 1936 the Catholic Women's League undertook card parties to raise funds toward repairs to the sheds on the church property. There was also a Dramatic Society of Douro which, in 1936 and 1937, staged a successful production of an Irish Comedy Drama, "Molly Bawn," raising $100 from performances in Douro, Peterborough, Warsaw and Keene.

Father McGuire died on June 2, 1937. In the year previous to his death, the hydro had come to Douro via Nassau and the power was turned on shortly after Father McGuire had died. The wiring of the church with provision for twenty-seven lighting fixtures was the personal gift of Father McGuire to the church which he had served for over a quarter century.

During the interval between the death of Father McGuire and the appointment of his successor, the operation of the parish continued under the care of the Administrator, Father Edward Welsh. The parish sheds were reinforced and shingled, and within the church, the sanctuary was enlarged, a side altar was installed on the Epistle side, a new altar railing was erected and new sanctuary furniture provided.

On November 4, 1937, Father John J. McCarthy, Pastor of Norwood, assumed his duties as successor to Father McGuire. Realizing that a beautiful stone church and a gracious stone house required a picturesque setting, Father McCarthy initiated a program of landscape beautification. The church grounds were enlarged and the ground level raised and graded between the church and residence. As a beginning evergreens were planted on the north side of the property to provide a windbreak. In the following year a second row of evergreens was planted, lawn pipe was laid and a new walk from the vestry to the house as well as a new driveway were made. In 1939 the level of the land on the east side of the church was raised and graded, and a tennis court was provided on the north. Meanwhile the church received attention: the basement was floored with concrete, new approaches to the entrances were built of stone obtained from the quarry from which the original stone of the church was procured and a fence of matching stone and iron was commenced. In 1943 the pews which had served for fifty years were replaced by new ones, new Stations of the Cross were procured and the church interior was decorated. As improvements to the church were made, the parish rectory was provided with new hardwood flooring and other necessary renovations.

During the years of interior and exterior improvement of church property, the cultural development of the parish, particularly among the young, was not neglected. For many years the dramatic talent of the younger members of the parish found expression and development in the presentation of plays. In 1944 a parish library was organized. In the winter of 1945-46, nineteen study clubs were functioning, the subjects of discussion being Social Sciences and Co-operatives. As a result a credit union was formed in 1946.

In 1946, St. Joseph's Parish of Douro observed the Centennial of its founding. The observance was the occasion of a Pontifical Mass celebrated by Bishop Berry assisted by native sons of the parish: Dean O'Leary, Fathers Joseph Collins, John Garvey and James Collins, the sermon being preached by Father Joseph Walsh. On this occasion Bishop Berry revealed an odd parallel that existed between his home parish of St. Patrick's in Montreal and St. Joseph's in Douro. The first meeting of Irish immigrants for church service took place in Bonsecours Church in Montreal in 1825, the same year the first settlers reached Douro. The first church in Douro was build in 1844-45 at the same time St. Patrick's Church was being built in Montreal. The first Bishop to administer the Sacrament of Confirmation in Douro and to keep a record thereof was Bishop Patrick Phelan and this Bishop was, prior to his consecration, a priest in the Irish parish of St. Patrick's where Bishop Berry was baptized, confirmed, ordained to the priesthood and consecrated a Bishop.

The first native son to celebrate his first Mass during Father McCarthy's pastorate was Father Joseph James Leahy of the Society of Jesus, the date being June 13, 1945. Since then five other priest-sons of the parish have celebrated their First Masses in St. Joseph's of Douro: Father Jeremiah Hayes of the Congregation of the Most Holy Redeemer on September 22, 1946, Father Gerard Sullivan on June 1, 1947, Father Leo Leahy on June 4, 1950, Father Richard Sheehan of the Congregation of St. Basil on December 23, 1951, and Father Vincent Gary Leahy on June 2, 1963.

The years 1955 and 1956 were high-lights of Father McCarthy's long pastorate in Douro.

Until 1955 the Parish of Douro was provided with several Public Schools of one room, some of which were union schools as the school sections were comprised of a part of Douro Township and a part or parts of adjoining townships. Under the inspiration and direction of Father McCarthy a plan to establish a consolidated Separate School in the village of Douro was proposed. With the approval of the ratepayers of eight school sections an amalgamated school area was formed and a school board elected. A modern school of brick construction providing four class-rooms was build on the property east of the church and opened in 1956. In 1959 two class-rooms were added and since then portable class-rooms were also added.
The school opened after Christmas the year it was built and its first principal was Kevin Leahy, brother of the aforementioned Fr. Leo Leahy. He occupied this position for twenty-six and a half years. Kevin's wife, Bunny (Bernice Greenan of Lindsay, younger sister of Father James Greenan), assisted him as a teacher for a time and also served as organist and choir director in the Douro church for more than fifty years. Kevin was awarded the Papal honour, Knight of St. Gregory and Bunny the medal, Pro Ecclesia et Pontifice.

While the construction of the school was in progress, Father McCarthy, realizing the need for an adequate meeting place for the members of the parish, undertook the building of a parish hall. The site chosen was the south-west corner of the Douro cross-roads, the other three corner properties being occupied by the parish church and rectory, the school and the cemetery. Father McCarthy was his own architect and frequently he worked as a labourer on the construction. Built of stone and adorned by an entrance of classic design, the parish hall complements the parish church and house on the other side of the road. In addition to its use as a parish hall, the building serves as a community centre.

A local non-Catholic man named Tom Hampton oversaw the gathering of 21 tons of stone from Nephton for the hall project. Around the same time, Mr. Hampton built the stone fence pillars around the church property and repointed all the exterior of the church as well.

In 1956 Father McCarthy was named Dean of Peterborough and Victoria Counties in succession to Monsignor O'Sullivan.

In 1960, in recognition of his fifty years of his service in the Diocese of Peterborough and his accomplishment in the spiritual, social and educational progress of his parish, Dean McCarthy was name a Domestic Prelate of the Papal Household on the recommendation of Bishop Webster, Bishop of Peterborough. This honour was announced on August 26 and the investiture ceremony took place later in St. Joseph's Church.

St. Joseph's Parish of Douro, under the leadership of Monsignor McCarthy assisted by Father Patrick J. Byrne, was one of the first to implement the program of liturgical renewal as proclaimed by the Second Vatican Council. The progress made by Douro Parish in this field was recognized by the Religious Department of the Canadian Broadcasting Corporation by devoting a program in its "Christian Frontiers" series to the topic, "Decision in Douro". Canadian Broadcasting Corporation technicians taped its survey of liturgical renewal in the parish and the finished product was shown on television across Canada during Holy Week 1965.

On November 29th, 1964, in the context of Forty Hours Devotion, Mass was celebrated for the first time in English in Douro.

In 1966, further recognition of its part in liturgical renewal was accorded the Parish of Douro by the Peterborough Centre of the Royal Canadian Organists. On April 26, organists and choir directors of Peterborough and the adjoining area assembled at St. Joseph's to hear the new liturgy in English at a Mass sung by a children's choir. In a meeting with the guests in the parish hall, Monsignor McCarthy explained the new liturgy of the Mass and Father Byrne answered questions.

As the year 1970 came to a close, Monsignor McCarthy observed the completion of thirty-three years as Pastor of St. Joseph's of Douro and the observance of the sixtieth anniversary of his ordination to the priesthood. In recognition of these milestones of his priestly career, he was honoured in a dual observance of these anniversaries. On October 9, relatives, friends and parishioners joined him in a Mass of Thanksgiving which was followed by a banquet in the parish hall. Later in the month in the presence of Bishops Webster and Marrocco the priests of the diocese feted him similarly. Monsignor McCarthy was born in Hastings. Upon completion of secondary education in Norwood, he attended Teachers' College and was engaged in teaching for three years in his home district. On entering the University of Toronto, he studied Political Science and after graduation, he articled in law for one summer. He then entered the grand Seminary in Montreal and was ordained to the priesthood by Bishop R. A. O'Connor. During his sixty years in the priesthood he served under seven Bishops of the Diocese of Peterborough.

During the last three years of his pastorate, Monsignor McCarthy was assisted for one year by Father John Coughlan, former Principal of St. Peter's High School and for two years by Father John Weis who served as Vice-Chancellor of the Diocese at the same time.

In the spring of 1971 Monsignor McCarthy tendered his resignation as Pastor of Douro and in May Father F.K Malane of Bowmanville was appointed to succeed him. In the autumn of that year, Monsignor took up residence at Marycrest in Peterborough.
The southernmost window on each side of the church was built by the McCausland Company of Toronto in 1947. McCausland, which had purchased the assets of the N.T. Lyon Company, clearly attempted to copy the artistic features of the Lyon windows and a causal observer might fail to notice the differences. The one on the west side is dedicated to Msgr. McCarthy, the piece indicating his date of death in 1976 obviously being inserted sometime later. This scroll gives the mistaken impression that he remained as Pastor of Douro until his death.
In its history, the Douro Parish has given more than twenty priests to the service of the church chiefly in the Diocese of Peterborough. In addition to the native sons ordained to the priesthood and already mentioned in association with the pastorates of Father McGuire and Father McCarthy, nine others constitute the above number. The first member of the parish to enter the priesthood was Patrick Condon, son of Michael Condon who was one of the original settlers of 1825. Father Condon laboured in the vicinity of Montreal. Another native son ordained to the priesthood was Mogan O'Brien who became Pastor of Merrickville in Grenville County. The first recorded ordination to take place in Douro was that of Michael J. O'Brien who was ordained by Bishop Jamot on May 30 of 1885. Before the turn of the century Father George Whibbs was ordained in Montreal on December 21, 1889 and Patrick O'Leary was ordained by Bishop R.A. O'Connor in Douro on December 30, 1894. In 1906 Father William J. Torpey was ordained for the Archdiocese of Dubuque in St. Raphael's Cathedral in Dubuque, Iowa and Father Michael J. O'Leary was ordained at St. Peter's Cathedral by Bishop R.A. O'Connor on December 23. Father Joseph O'Leary was ordained on February 5, 1922 by Archbishop J. O'Leary of Edmonton and served in the Dioceses of Prince Albert and Saskatoon.
Father Michael O'Leary is the legendary "Dean O'Leary" of the Northern Deanery who served as Pastor of the Bracebridge parish for 52 years. He was a strong man who helped build mission churches with his own hands but, at the same time, worked tirelessly at the spiritual care of his people. He was named a Prelate of Honour (Monsignor) in 1955 and died while preaching at Mass on Sunday morning, 20 January 1963. While his body is interred at Bracebridge, both his brothers, Patrick and Joseph, are buried in the Douro Cemetery.
A Father John O'Leary was a cousin to these three men, also from the Douro Parish, who became a Priest of the Sault Ste. Marie Diocese when it was created in 1904.
On May 22, 1937, Father Bernard Collins was ordained in St. Raphael's Cathedral of Dubuque for the Archdiocese of Dubuque. This record of Douro is unique not only in number but in the fact that Fathers Patrick, Michael and Joseph O'Leary were brothers of the same family as is also the case of Fathers Joseph, James and Bernard Collins.
Father Joseph Collins, having retired from his position as Pastor of Sacred Heart in Peterborough, resided for several years at Marycrest Home for the Aged, passed away in October 2002 and is buried in St. Joseph's Cemetery. Msgr. Bernard Collins, retired from St. Pius the Tenth Parish in Cedar Rapids, Iowa, passed away a year later and was buried in Douro on 1 November 2003.
Father Randy Foster 16th Pastor 2021-
Father Sanyatson Seshaiah 15th Pastor 2015-2021
Father Raymond Rick 14th Pastor 2009-2015
Father Thomas A. Lynch 13th Pastor 2007- 2009
Father Michael Heffernan 12th Pastor 2001 – 2007
Father Raymond Heffernan 11th Pastor 1986 – 2001
Father Leo Coughlin 10thPastor 1982-1984
Father Francis Kenneth Malane 9th Pastor 1971-1982
Father John Joseph McCarthy 8th Pastor 1937-1971
Father Michael J. McGuire 7th Pastor 1910-1937
Father William J. Keilty 6th Pastor 1889-1909
Father Daniel O'Connell 5th Pastor 1865-1889
Father Michael J. Lynch 4th Pastor 1860-1865
Father William P. McDonagh 3rd Pastor 1858-1860
Father Michael Mackey 2nd Pastor 1852-1858
Father Hugh Fitzpatrick 1st Pastor 1846-1852
Administrators of St. Joseph's Douro
Fr. Edward Welsh
Father James Conrad
Father Francis Cox
Assistants of St. Joseph's Douro
Father John Farrell
Father James Chisholm
Father Victor McFadden
Father Christopher Carney
Father James Leonard
Father W, M. Meagher
Father Edward Welsh
Father Patrick Joseph Bryne
Father John Coughlin
Father John Weiss
Fr. Reginald Haines
Fr. Francis Cox
Rev. Mr. Paul Dunford P.D.
Retired Priests who Assisted at St. Joseph's Douro
Msgr. Gerard Sullivan Rev. William Brown
Priests and Ordained Ministers who came originally from
St. Joseph's Parish, Douro, Ontario
COLLINS – Msgr. Bernard G. Collins ordained in Dubuque, Iowa 22 May
1937.Son of James P. Collins and Anastasia Foley – born 22 August
1912; Msgr. Bernard Collins died 16 October 2003 and is buried in St. Joseph's Cemetery, Douro, Ontario.
COLLINS – Rev. James Collins ordained 15 June 1935. Son of James P. Collins and Anastasia Foley – born 26 December 1908; Rev. James Collins died 10 November 2002, and is buried in St. Joseph's Cemetery, Douro, Ontario.
COLLINS – Rt Rev. Joseph P. Collins ordained May 30, 1920, Son of James P. Collins and Anastasia Foley -born 8 July 1892; Rt. Rev. Joseph Collins died 4 June 1974, and is buried in St. Joseph's Cemetery, Douro, Ontario.
CONDON – Rev. John James Condon ordained 14 June 1898, son of Patrick Condon and Mary Ann Moher born 20 February 1864, Rev. John James Condon died 24 November 1946 and is buried Del Norte Rio Grand County, Colorado, USA
CONDON – Rev. Patrick William Condon ordained a Deacon 30 December 1884..son of Michael Condon and Margaret O'Leary born 2 March 1838. Rev Patrick William Condon died 25 July 1901 and is buried Holy Cross Cemetery, Notre Dame, St. Joseph's County, Indiana, USA
DUNFORD – Rev. Mr. Paul Dunford PD ordained Permanent Deacon 19 March 2000, husband of Annette Towns, son of Robert Dunford and Sarah Jessup born 1 February 1955.
GARVEY – Rev. John J. Garvey ordained 12 May 1918, son of Timothy Garvey and Mary Fitzgerald – born 21 June 1889. Rev. John J. Garvey died 22 June 1973 and is buried in St. Peter's Cemetery, Peterborough, Ontario.
HAYES – Rev. Jeremiah Hayes C.SsR. ordained as a Redemptorist Priest 15 September 1946, son of Allan Hayes and Rose Farley –born 5 August 1921. Rev.
Jeremiah Hayes died 25 February 1993 and is buried at St. Peter's Cemetery, Peterborough, Ontario.
HEFFERNAN – Rev. Bernard Francis Heffernan ordained 2 June 1962, son of Francis Heffernan and Kathleen Towns – born 16 June1934. Rev Bernard Heffernan died 14 March 2016, and is buried in St. Joseph's Cemetery, Douro, Ontario
HOGAN – Rev. Paul A. Hogan ordained 1996, son of Gerald Hogan and Rita Heffernan.
LEAHY – Rev. Leo Michael Leahy ordained 3 June 1950, son of Francis D. Leahy and Agnes Garvey – born 12 October 1918. Rev. Leo Leahy died 24 Mach 1999 and is buried in St. Joseph's Cemetery, Douro, Ontario.
LEAHY – Rev. Garry Leahy ordained 1 June 1963, son of John James Leahy and Stella Condon – born 18 July 1938. Rev. Garry Leahy is still living.
LEAHY – Rev. Joseph James Leahy ordained Society of Jesus on 13 June 1945, son of Michael James Leahy and Loretto Moher – born 12 March 1914. Rev. Joseph Leahy died 17 August 1970 and is buried in Guelph, Ontario
LEAHY – Rev. Joseph Leahy ordained 30 July 1916 as a Jesuit Priest, son of James Leahy and Margaret O'Leary – born 3 March 1878. Rev. Joseph Leahy died 10 March 1964 and is buried in Guelph, Ontario.
O'BRIEN – Rev. Morgan O'Brien ordained circa 1880, have not been able to establish or verify his parents at this time. He died 13 January 1894 and he is buried in the church lawn of St. Ann's Merrickville, Dixon's Corners, Ontario.
O'BRIEN – Rev. Michael J. O'Brien ordained 30 May 1885, son of John O'Brien and Mary Mahoney – born 9 October 1859. He was the first recorded Ordination in Douro. His death date has not been verified.
O'LEARY – Rt Rev. Joseph O'Leary CSJ ordained 5 February 1922, son of John O'Leary and Catherine Leahy – born 20 March 1884. He died 13 October 1960 and is buried in St. Joseph's Cemetery, Douro, Ontario.
O'LEARY – Rev. Patrick O'Leary ordained 30 December 1894, son of John O'Leary and Catherine Leahy – born 15 November 1865. He died 20 September 1914 and is buried in St. Joseph's Cemetery, Douro, Ontario.
O'LEARY – Msgr. Michael J. O'Leary ordained 22 December 1906, son of John O'Leary and Catherine Leahy – born 1 November 1879. He died 20 January 1963, and is buried in St. Joseph's Cemetery, Bracebridge, Ontario.
O'LEARY – Rt. Rev John Joseph O'Leary ordained 12 May 1918, Diocese of Sault Ste. Marie, Ontario, son of Patrick O'Leary and Bridget Fitzgerald – born 12 May 1892. He died 20 September 1970 and is buried Priest's Plot of Holy Sepulchre Cemetery, Sault Ste. Marie, Ontario
SHEEHAN – Rev. Richard Sheehan C.S.B. Basilian Priest ordained in the Congregation of St. Basil 22 December 1951, son of Richard Sheehan and Anne Fitzgerald –born 12 June 1920. He died 10 January 2008 and is buried in Basilian Plot of Holy Cross Cemetery, Thornhill, Ontario.
SULLIVAN – Msgr. Gerard Francis Sullivan ordained 31 May 1947, son of John Sullivan and Josephine O'Brien – born 1922 He died 7 July 2014 and is buried in St. Joseph's Cemetery, Douro, Ontario.
TORPEY – Rev. William James Torpey ordained 10 June 1905 in St. Paul, Minnesota diocese of Dubuque, son of Eugene Torpey and Honora Fahey – born 3 March 1873. Died 22 October 1952 and is buried in St. Joseph's Cemetery, Douro, Ontario
WALSH – Rev. Joseph Walsh ordained 26 May 1934, son of James M. Walsh and Ann O'Keefe – born 2 December 1904. He died 31 January 1984 and is buried in St. Joseph's Cemetery, Peterborough, Ontario.
WHIBBS – Very Rev. Dean George Francis Whibbs ordained in Montreal 21 December 1899, son of – George Whibbs and Ann Cuff – born 29 July 1862. He died 1 July 1937 and is buried in St. Joseph's Cemetery, Douro, Ontario.
Additional sons of the Douro Parish have become Catholic Priests, including these, all Ordained at the Cathedral in Peterborough: Gerard Francis Sullivan, son of John Sullivan and Josephine O'Brien, on 31 May 1947; Bernard Heffernan, son of Francis Heffernan and Kathleen Towns, by Bishop Webster on 2 June 1961; Vincent Gary Leahy, son of John Leahy and Stella Condon, on 1 June 1963; Paul Austin Hogan, son of Gerald Hogan and Rita Heffernan, Ordained by Bishop James L. Doyle on 31 May 1996; and John Joseph Perdue, son of Douglas Perdue and Dorothy Devlin, by Bishop Nicola De Angelis (acting as Apostolic Administrator, in anticipation of his successor's Installation in the Diocese) on 30 May 2014. Father Perdue's First Mass was celebrated in Douro two days later with the church filled to capacity.
Meanwhile, at least five men of the Parish have become Religious Brothers: Stephen Coughlin, Edward Hogan, Nicholas Hogan, Marcellus Leahy and Alexus McDonnell; and Gerald Heffernan became a lay missionary with the Scarborough Foreign Mission Society in 1965.
Since the formation of the parish in 1846, over forty-five young women have entered religious life, the majority joining the Congregation of St. Joseph of the Diocese of Peterborough.
            Sr. Mary Rose (O'Brien)                                date unknown

            Sr. St. Michael (O'Brien)                               date unknown

            Sr. Josephine (O'Brien)                                 date unknown       

            Sr. Roberta (Moher)                                       date unknown

            St. St. Michael (O'Brien)                               1890

            St. Anne Olivia (Agnes Hogan)                  1894

            Sr. St. Benedict (O'Brien)                              1894

            Sr. Paula (O'Shea)                                           1894

            Sr. Beata (Walsh)                                            1899

            Sr. Loyola (Leahy)                                           1899

            Sr. Mary Rose (Josephine Moher)              1899

            Sr. Berchmans (Hogan)                                 1900

            Sr. St. Brigid (O'Leary)                                    1901

            Sr. Josephine (Moher)                                    1901

            Sr. St. Edmund (Young)                                  1902

            Sr. Geraldine (Agnes O'Brien)                       1902

            Sr. Madeline (Moloney)                                  1904

            Sr. Patricia (O'Brien)                                        1904

            Sr. Theophanie (Ann Hogan)                        1907

            Sr. Barbara (Garvey)                                        1908

            Sr. Rosalea (Moloney)                                     date unknown

            Sr. Mary Elizabeth (Condon)                         1908

            Sr. St. Patrick (Moher)                                     1915

            Sr. Beata (Tobin)                                               1915
25.            Sr. St. Maurice (O'Brien)                               1919
26.            Sr. Carmella (Garvey)                                    1919
27.            
Sr. Winnifred (O'Brien)                                 1919                                        28.
            Sr. Seraphia (McCann)                                  1919                                        29.
            Sr. Ermilinda (O'Brien)                                  1920                                        30. 
           Sr. St. Oswald (Allen)                                     1926                                        31.  
           Sr. St. Matthew (McMurray)                        1927                                        32.  
           Sr. Jerome (Meade)                                        1927                                      33. 
            Sr. Anna Teresa (O'Brien)                             1931                                        34. 
            Sr. Mary Jean (McManus)                           1932                                        35. 
            Sr. Mary Fitzpatrick (Lucille Cavanagh)  1936                                        36.  
           Sr. Margaret (Moher)                                     1938                                      37. 
            Sr. Mary Agnes (Garvey)                               1940                                        38.
             Sr. Isabel (Condon)                                          1940                                        39. 
            Sr. Mary Denis (Emmilene Meade/Towns)1942                                      40. 
            Sr. St. Joseph (Coughlin)                                1945                                      41.  
            Sr. Elizabeth (Farley)                                       1946                                      42. 
             Sr. Rosalea (Sheehan)                                     1946                                      43.  
            Sr. St. Michael (Lucille Garvey)                    1948                                      44.  
            Sr. Mary Carmel (Theresa Moher)               1954                                      45.  
            Sr. Helena (Isabel Heffernan)                        1955                                      46.  
            Sr. Mary Lawrence (Sheehan)                      1964                                      47.  
            Sr. Marie (Garvey)                                            date unknown                  48.
            Sr. Mary Catherine (Anne Perdue)                2009
During the pastorate of Father Francis Kenneth Malane, 1971-1982, numerous property improvements were undertaken, beginning with the creation of the parking lot on the east side of the church, where previously Msgr. McCarthy had built tennis courts. At about the same time, a washroom was installed in the vestry of the church and the vestry itself painted. New furnaces were provided for the church and hall while more insulation was added to the attic of the rectory. In 1976, new paint was given to the metal roofs of the church and the rectory as well as the fence in front of the property. The year 1980 saw the installation of new carpet and furniture in the sanctuary and a sound system for the church. The following year, pointing was done on the buttresses and chimneys of the church and work done on the frame for the bell.
Msgr. McCarthy passed away in 1976 and is buried in his hometown of Hastings. In early 1977, Fr. Malane brought the Legion of Mary to the parish, encouraging the members and associate members with opportunities for prayer and apostolic works for the good of the parish and their own spiritual growth.
In this same decade, in response to the liturgical reforms following the Second Vatican Council, Saturday evening Masses began. It was also Fr. Malane who moved the choir down from the loft, worrying that it might actually be dangerous using the steep steps thereto.
A wooden ramp was added to the church, giving access to the westernmost door at the front of the building, for the use of senior parishioner William (Bill) Towns and others who find the stairs problematic.
Father Leo T. Coughlin was appointed Pastor on July 1st 1982 and Fathers James S. Conrad and Francis J. Cox as Administrators in 1984 and 1985 respectively.
Father Conrad, later Msgr. Conrad, was given various assignments and served as financial Comptroller for the diocese in the latter years of Bishop Doyle's administration; living in retirement in London, Ontario, he died 27 September 2011.
Father Frank Cox left Douro upon being appointed pastor of St. Anne's Parish in Peterborough and was serving as Rector of the Cathedral at the time of his death on 22 September 1995.
The liturgical renewal initiated following the Second Vatican Council (1962-1964) was continued by Father Raymond J. Heffernan, who became Pastor of this parish in 1986, with the removal of the old confessional in the sacristy and the construction of a Reconciliation room to the right of the main entrance of the church as one enters. This was made possible by a donation in memory of John and Anastasia Allen. Meanwhile, in 1990 Fr. Heffernan oversaw the installation of a new Altar of Sacrifice, bearing a prominent image of the Last Supper, donated by Rev. Bernard Collins (abovementioned) "in memory of James P. and Anastasia Collins and family."
In 1992 a new steel roof was put on both the church and the rectory by Steeplejacks of Lindsay. In the year 2000, the same roof was given to the new garage. Thus, at the beginning of the new millennium, every building on church property displayed the same distinctive red steel roof, providing a handsome visual harmony from the rectory to the church to the hall, and to the cemetery as well.
A Council of the Knights of Columbus was established in the Douro Parish on 24 January 1995 with 30 charter members including Fr. Heffernan as its first Chaplain and the first Grand Knight Paul Dunford, an officer of the Ontario Provincial Police who, in the year 2000, became Deacon Paul Dunford. The Knights would grow in membership over the succeeding years and be a powerhouse of fundraising and charitable activity in the community.
Father Heffernan took a great interest in the dignified maintenance of the parish cemetery and enlisted the assistance of parishioners to reclaim it from a neglected state. During these years, an annual Cemetery Mass was instituted, celebrated on the evening of the Assumption of the Blessed Virgin, August 15th. It became quite popular, attracting many descendants of the Douro settlers who have relocated to Peterborough or other communities round about.
Msgr. Gerard Sullivan, who had entered the world in this parish on 2 February 1922, took up residence in the Douro rectory from 1985 to 2000, during the pastorate of Fr. Raymond Heffernan. During this period, his skill as an amateur artist reached its climax and he produced hundreds of paintings, many of which featured northern native children and huskies. His paintings, although never critically acclaimed in the higher realms of professional art, were well received by ordinary folk, including the people of Douro. The parish Catholic Women's League held an Art Show every second year from 1986 to 1994 in the parish hall, featuring the works of Msgr. Sullivan and other local artists. Any donations received were always given to Jamaica Self Help (a charity founded in Peterborough in 1978). When departing Douro to reside at Sherbrooke Heights in Peterborough, he gave away or sold for a few dollars almost all of his paintings.
One of Msgr. Sullivan's paintings, produced in 1991, was submitted in a 2006 contest run by Holiday Retirement Corp. USA, and was selected from among more than a thousand entries to grace a Christmas card produced that year.
His interest in painting had begun to assert itself during his years in Warkworth (1955-1962) and he began taking a weekly painting class with the talented and well-known local artist, Mrs. Lillian Burnham. His transfer to Brighton and Wooler compromised his progress, and even more so his subsequent transfer to Britt. But from Britt he enrolled in a continuing education course at the Parry Sound High School. Later, when at Lindsay, he met Marta Brestovansky who was offering courses at Georgian College in Orillia and Sir Sandford in Lindsay. Following a stroke in 1978, while serving as Pastor of Bracebridge, he began to paint with his left hand, declaring that creativity comes from the mind, not from the hand. This exceptional priest entered into eternal rest on 7 July 2014 and is buried in the Douro Cemetery.
Paul Edward Dunford, a son of Robert Dunford and Sarah Jessup, born 1 February 1955, was raised as a member of the United Church in Lakefield. He was received into the Catholic Church in Douro in 1976 and, on July 10th of the same year, married Annette Towns, a daughter of Joseph Towns and Mary O'Grady. Together, they raised three children. Paul worked as a bricklayer, and joined the Peterborough City Police in 1977. Two years later, he joined the Ontario Provincial Police, eventually rising to the rank of Detective Constable. He served in Newcastle, White River, ON, and Peterborough. During his latter years with the Police, he worked as a "Use of Force Instructor" at the Provincial Police Academy, and retired at the end of 2011.
Father Michel J. Heffernan, 2001-2007, made maintenance of the church something of a priority. As the building ages, the costs associated with its up-keep become increasingly burdensome. He enlisted the Knights of Columbus to assist with funding and set about repointing the stonework on the church. At the same time, he arranged to have the stained glass windows removed, one or two at a time, and releaded. Over the course of several years, about three quarters of the stonework was examined and repaired as necessary, before the economic difficulties of the middle part of the decade motivated the diocese to put a moratorium on all such work until the true impact of the recession could be evaluated.
With the arrival of Bishop De Angelis in 2003, this Father Heffernan was appointed Chancellor of the Diocese responsible for financial affairs, was transferred to Downeyville in 2007 and designated Msgr. Heffernan in 2011.
Father Thomas A. Lynch, a native of Lindsay, was appointed by Bishop De Angelis to succeed the second Father Heffernan in September 2007. Father Lynch had previously served as Pastor of St. Thomas More Parish in Millbrook but, more recently, had been teaching and serving as Dean of Students and Dean of Studies at St. Augustine's Seminary in Toronto. Specializing in moral theology, particularly with regard to bioethics, he was also National Director of Priests for Life Canada.
During his time at Douro, Father Lynch was also appointed by the Bishop as Spiritual Advisor to the Diocesan Council of the Catholic Women's League. This was considered an honour by the women of this parish, where the CWL was established in 1933, marking its 75th anniversary in 2008.
Father Lynch's deep concern for life and family issues manifested itself in his pastoral care for engaged couples and for the youth of the parish. During his brief pastorate, he rallied a team of parishioners to run a marriage preparation program. He also utilized seminarian-parishioner John Perdue to run an effective youth program with heavy emphasis on sports and outdoor activities.
In May 2009, Father Lynch was succeeded by Father Raymond J. Rick who was, at the time, Vicar General and Chancellor of the Diocese – positions he resigned in April 2010, affording him more time to concentrate on the life of the Parish. He remained a Judge on the Catholic Marriage Tribunal.
Father Rick originated in Powassan and was Ordained a Priest in 1988. Following four years as an Associate at the Cathedral, he was assigned by Bishop Doyle as Pastor of Kearney and, later, Parry Sound. In the fall of 2003, Bishop De Angelis sent him to the University of St. Paul in Ottawa where he obtained a Licence in Canon Law. Upon his return to the Diocese, the same Bishop assigned him as Associate at St. Anne's in Peterborough for a short time before making him Pastor of Sacred Heart, also in Peterborough, for three years.
During his time in the parish, a lift was added to the east side of the parish Hall and a new washroom created beside the stage on the upper level, both for the benefit of those with mobility difficulties. Likewise, a new ramp, constructed of concrete and stone, was added to the east side of the church to improve accessibility. An older, wooden ramp, was then removed from the opposite side of the building. He also oversaw the conclusion of the program of repointing the church's stonework and the safe removal and replacement of the original cross atop the bell tower. However, he was unable to rid the rectory of bats.
While work was underway for the installation of the above-mentioned lift, the "time capsule", hidden in the wall in 1955, was retrieved. On Sunday, 1 April 2012, following a monthly meal provided by the Knights of Columbus (at a cost of $7.00 for adults, 3.50 for children between 5 and 10 years and free for those under 5), the capsule was opened before a crowd of approximately 50 parishioners. Items inside included several newspapers, postage stamps, photographs and a record of contributions made to the 1955 "Social". The latter document and a circulation silver dollar (which has become an unfamiliar object) drew the most intense interest. All these items were preserved in a copper box, obviously homemade but by whom is unknown.
On 18 November 2012, Paul and Barbara Meade were presented with Papal Benemerenti medals in recognition of their innumerable contributions to parish and community life. A good representation of Knight of Columbus and other friends were on hand to congratulate them.
The second annual Diocesan Family Conference, presented by the Diocesan Family Ministries Office, was held in Douro on 18 May 2014 to rave reviews. A lot of support from the Knights, the CWL and the parish in general, made it a very impressive event. Holy Mass was celebrated in the afternoon by Bishop William T. Mc Grattan, the twelfth Bishop of Peterborough, more than a month before his official Installation; it was his first public event in the Diocese.
Father Rick tried to emphasize the dignity of the Liturgy at the centre of parish life, especially by encouraging the choirs and the congregation to sing. He hosted a much-appreciated party for the musicians and choir members each fall, around the Feast of St. Cecelia.
In July 2015, Father Sanyatson Seshaiah, the Fifteenth Pastor replaced Fr Rick as Pastor of Douro.  In the year 2015, due to the Civil War in Syria, the Diocese encourage us to sponsor Refugee Families, so the parish of Douro raised about $31,000.00 to sponsor a family.  The sponsored family came to Douro just 2 days before Christmas of 2015, and Douro was the First Parish in the Diocese of Peterborough to receive sponsored family than any other Parish in the Diocese. They were a family of 4, father, mother, a young son and an infant daughter. They stayed in the rectory for three months, with Fr Sany. The Douro Parish welcomed the sponsored family with open arms. 
Fr Sany made maintenance of the Church, Hall and Rectory a top priority. The Parish Hall received new flooring downstairs and dehumidifiers to take care of excess moisture, particularly on the floor. New audio-visual systems on both floors were put in place. The water system was updated with a UV system and water softener and on demand hot water tank. Finally, a propane furnace was installed to replace the old oil system in the Hall.
In the Church, insulation was put in place at the main entrance, painting of the main entrance steeple inside, and refinishing of the main doors of the Church was completed. Electrical work included new, energy efficient LED lighting in the body of the church as well as a new breaker panel.  The Church heating system was updated with propane furnaces and a heat pump system to help with moisture control and air conditioning.  Flooring in the aisles and at the entrance to the church was replaced.  In 2019 the stone caps on the exterior south-east side of the church were repaired. To improve heat retention in the church the window frames were cleaned and repainted. A layer of 5 mm glass was installed, then another layer of 10mm glass was installed to protect the church from moisture and weather on all the windows.  The interior of the church had a lot of cracked and loose plaster that was replaced or repaired. Then the whole area was repainted in 2020/21 to maintain the beauty of this beloved church.
The Rectory had a new propane furnace and ductwork installed in 2016. This replaced the old oil furnace and baseboard heaters. A renovation of the back apartment rooms and bathroom was also done. In the Rectory both bathrooms were renovated and insulated. The verandah pillars and concrete sidewalk and stairs were repaired. For safety concern, a galvanized handrail for the outdoor steps was fabricated and installed. Finally in 2017 all the old baseboard electric heaters were removed in the Rectory and outdoor GFI receptacles were installed. A riding lawn mower and grass trimmer was purchased for the Church, Rectory and Hall grounds.
2018 was the 125th Anniversary of the present Church. Mass was celebrated by the Bishop Miehm. Afterwards there was a reception with entertainment on the lawn between the Church and the Rectory. Historical Photographs and other memorabilia were proudly displayed for everyone to enjoy. In 2021, the 175th Anniversary of the parish was commemorated by an outdoor mass, and was followed by entertainment, memorabilia and refreshments for all to enjoy. Fr. Sany celebrated his Thanksgiving Mass on July 25, 2021 in Douro, then moved to St. Anne's Parish, Peterborough. 
ST. JOSEPH'S CEMETERY
One of the first tasks following the consecration of St. Joseph's Cemetery in 1850 was to bring those who had died in the previous 20 years to be reburied in its hallowed ground; some of these had been buried in their own lands and others in plots on Concessions II and VI.
A curiosity about this cemetery is that the earliest graves are laid out according to ancient Christian Tradition; that is, the foot of the grave is at the east end and the head is at the west so that, on the great day of resurrection, the faithful deceased may stand up and face the rising sun. But at some point, the pattern has changed such that the subsequent graves are aligned north-south. The timing of this change seems to correspond with the construction of the new church in 1893. The theory, then, is that parishioners of St. Joseph's Parish are buried on the same axis as their church.
A stone vault was constructed in the cemetery in 1921. Once winter burials became possible and the structure was no longer needed to retain bodies until spring, it became a tool and storage shed for the cemetery.
In 1971, a small plot of land on the east end of St. Joseph's Cemetery was donated by Seraphine Towns and subsequently called "Maryland." In 2001 the cemetery expanded again when a parcel of land on the south side was purchased from Patricia O'Brien for $18,000. This plot of land was divided into two areas and named after the two longest serving pastors of the parish, "McGuire" and "McCarthy." When surveyed, this latest addition provided space for 1,565 more graves and brought the total area of the cemetery to 7.14 acres (2.9 hectares).
A statue of St. Joseph, a gift to the Sisters of the Precious Blood in 1936, was returned to the parish when the Sisters left Peterborough in 2001. A grotto to house it was constructed at the corner of the cemetery facing the church. This was blessed by Bishop De Angelis at the annual Cemetery Mass on the evening of Sunday, 15 August 2004.
___________________
This history is an on-going project and may be updated as new information becomes available.
Contributions can be e-mailed to [email protected]